In our November 2022 newsletter:
Brand new boats in the charter fleet: Solaris60, First36, Italia14.98 & ORC57 catamaran
Sail upgrades for 2023 on our charter boats
2023 "

Train

&

Race

" programme
Brokerage: X-Yacht Xc-45 for sale  –  X43 Xenios sold but stays in the fleet
Upcoming Boat Shows: Geneva and  Düsseldorf

Fast

Sailing

experiences: Pogo12.50 Hermes3 on a transat!
---
Brand new in the charter fleet: Solaris 60, Italia 14.98, First 36 & ORC 57 catamaran
Four brand new boats for 2023 confirm Fastsailing as the leading performance charter yachts company:
  First

36

starting June 2023 – Lavrio base
  Italia 14.98 starting September 2023 – Corfu base
  ORC

57

catamaran starting September 2023 – Lavrio base
and of course
The Solaris

60

starting May 2023 – Lavrio base
---
F I R S T  3 6
Carbon mast
Carbon bow sprit
Double rudders
North 3Di Sails with Main, Genoa, Code0 and A-spi
B&G electronics
Full comfort features: full kitchen, windlass, bimini, cockpit shower, bathing platform, cockpit table etc etc
---
I T A L I A  1 4 . 9 8
A modern and stylish yacht that is set up in the "fuoriserie" version, i.e. with full performance features.
Once again, it is an ex charter client who honors us with his trust in managing his dream yacht.
The brand new Italia 14.98 will be available for bareboat or skippered charters from our Corfu base starting early September 2023.
---
O R C   5 7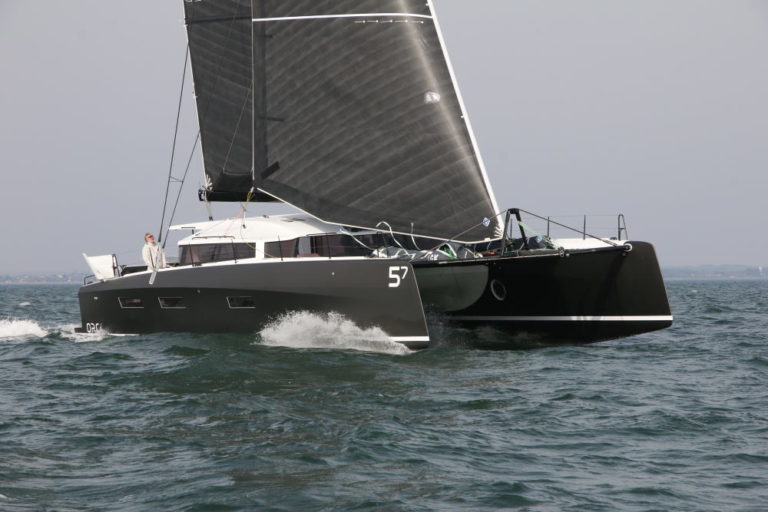 A real turbo charged performance catamaran. Just 13tons of displacement powered with a sail area of 161m2 upwind and 422m2 downwind! High performance guaranteed: Square top main, J1, J2, J3, Code0, 2 spinnakers.
Sober but functional amenities with a wide protected cockpit, a spacious saloon, 4 double cabins, two bathrooms plus two exterior crew single cabins.
The ORC 57 will be available for charter from our Lavrio base with a permanent professional crew (skipper + hostess) starting late August 2023. In early November 2023 will leave for a double transatlantic, returning again to Greece in April 2024.
Fastsailing customers can join us for the transfer from Lorient France to Lavrio Greece in August and of course for the transatlantic crossing in November 2023.
---
S O L A R I S   6 0
The construction of our admiral ship is well on its way and we now have chosen her name:
Inspired by the myth of the Argonauts,
  will sail in style around the greek seas starting in May 2023.
Enjoy all those great charter yachts in the world's sailing paradise: in Greece !
For reservations:

Email
---
Sail upgrades for 2023 on our charter boats:
We want to maintain the performance and your sailing experience to the best possible level. For the 2023 we have planned sail upgrades on the following Fastsailing boats:
Pogo50 Eros: new Main, Genoa, Jib
Pogo12.50 Don Quichotte: new Main, Genoa, Staysail
Pogo36 Athena: new Main, Genoa, Staysail
Pogo36 Infinity: new A2 spi
X-Yacht X43 Xenios: new Main, Genoa, Staysail
Solaris 40 Aeneas: new A2 spi
All upwind sails will be made with laminate (black) membrane sails like these:
---
Brokerage: Xc45 for sale – X4.3 Xenios sold but stays in the fleet:
Just recently the X-Yacht X43 Xenios was sold to a new owner who will keep it in our FastSailing charter fleet.
Currently, we have a super well maintained X-Yacht Xc-45 for sale:
Launched July 2015, hull #89  Mk2 version (upgraded 2nd version)
Price: 480.000€ tax not paid
Charter management scheme possible
The Xc45  Xenia is a private family cruiser (never chartered) and has been professionally maintained and constantly upgraded by Fastsailing since 2017.
The boat is visible in Olympic Marine, Lavrio – Greece, 30min drive from the Athens International Airport.
If the new owners wish, we are eager to have Xenia under our charter management. This will allow covering annual expenses and possibly more than that, without any restriction on the desired periods and duration of private use.
Contact us for full specifications:

Email
---
Upcoming "Train & Race" programmes:
The popular programmes with world class skippers continue:
18-27/March/2023. Classic Train & Race with the Hydra Race on multiple Pogo12.50s and Pogo44s
8-15/July/2023 Aegean600 race on the Pogo50
Solo/Double Handed Training: dates upon demand
For more information and the complete programme visit our Train & Race tab.
For reservations:

Email
---
Upcoming boat shows: Geneva CH, Düsseldorf DE
Geneva 11-13/Nov/2022
Fastsailing stand BS 732
Our regular meeting with the Swiss sailing enthusiasts.
---
The Fastsailing team will be at the following stands / brands:
---
FastSailing experiences: Pogo12.50 Hermes3 on a transat!
Earlier this year Yves, the new owner of  Pogo12.50 Hermes3,  told us he will do a transatlantic race, participating at the "Rallye des Iles du Soleil".
Yves is relatively new into sailing but he has passion and a great sportive spirit (>10 times in the Paris-Dakar rally of which 2 on a motorbike…). So he trained here in Greece and with the support of the whole Fastsailing team for the preparation of the boat, he set sail for the other side of the Atlantic!
At the 1st leg  Canaries – Cap Verde the Pogo12.50 Hermes3 arrived 3rd after a Neel43 Trimaran and an Amel64.
Bravo Yves, we are all super proud of you!
P.S. Hermes3 will return on a cargo to the Med in April 2023 and will be back in Greece for the charter season.
Exceptional FastSailing experiences in Greece
More wind, more sun, more fun than anywhere else in the world!