Pogo36. A great successor!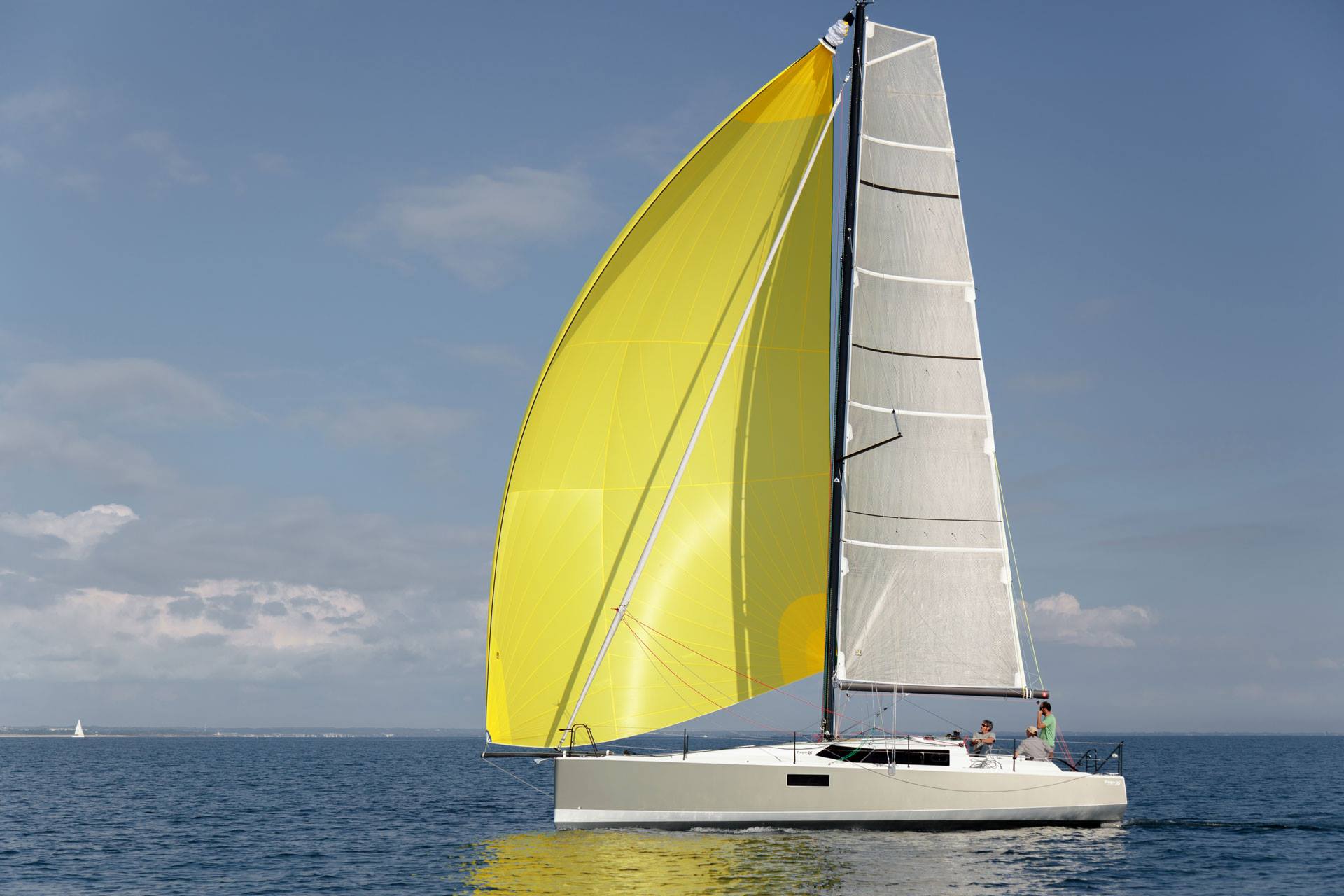 We were long waiting to add this new Pogo36 into our fleet and we are happy to have her starting 2017!
The successor of the Pogo10.50 has incorporated all design and performance input from the previous Pogos.  All typical characteristics that make Pogos exceptional performance cruisers are there: robust structure, wide beam, form stability, double tillers, deep keel, voluminous shape….
The new features are the more pronounced chines which together with the voluminous bow sections offer great form stability and will allow the Pogo36 to glide over the waves at high speeds.  The designer office of Finot-Conq, opted for a set of windows facing towards the front, offering tight sheeting angles and … a very aggressive look!
In addition, at Fastsailing, we have selected the 3 cabin version with all the major extras for top performance and great comfort: Carbon mast, pivoting keel, square top mainsail, heating, hot water both inside and in cockpit shower…
What a spectacle it is going to be having a Pogo36 along with a few Pogo12.50s and a Pogo50 moored in a picturesque bay in the Cyclades…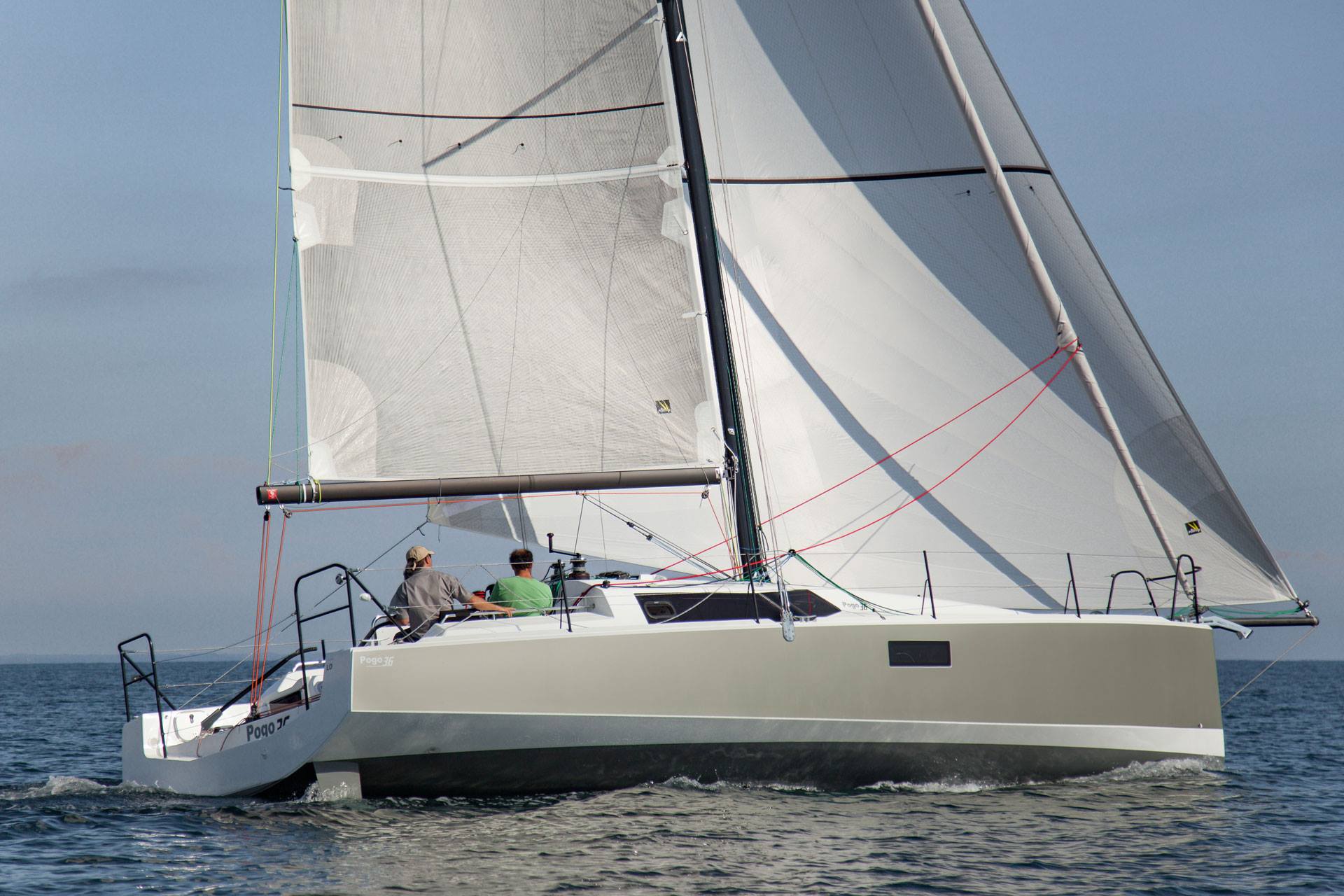 As you would expect, we are talking about a truly fast saiboat. Not an IRC/ORC "optimized" floating caravan….
Enjoy gliding at 8…10…15 kts with ease, comfort and safety. Max boat speed for the Pogo36 will be around 20kts and we are just waiting to experience that!
This is how it is possible:
Super powered:
Sail area /Displacement 2/3 =  31.50 for upwind (D=3.6t, Upwind SA = 74m² )
Sail area /Displacement 2/3 = 82.59 for downwind. (D=3.6t,  Downwind SA=194 m²)
Optimized hull:
Flat hull shape optimized for planing both upwind and downwind
Pronounced rocker => minimal drag in light airs + bow up when sailing downwind in strong breeze
As soon as the yard releases the Polar Diagrams and VMG graphs we will publish them here for you
Certainly Polar Diagrams are theoretical predictions assuming certain "ideal" conditions (perfect trimming, sails' conditions, steering etc). However, they do provide however a useful tool when it comes to comparing yachts. Double digit boat speed sensations are now for everybody!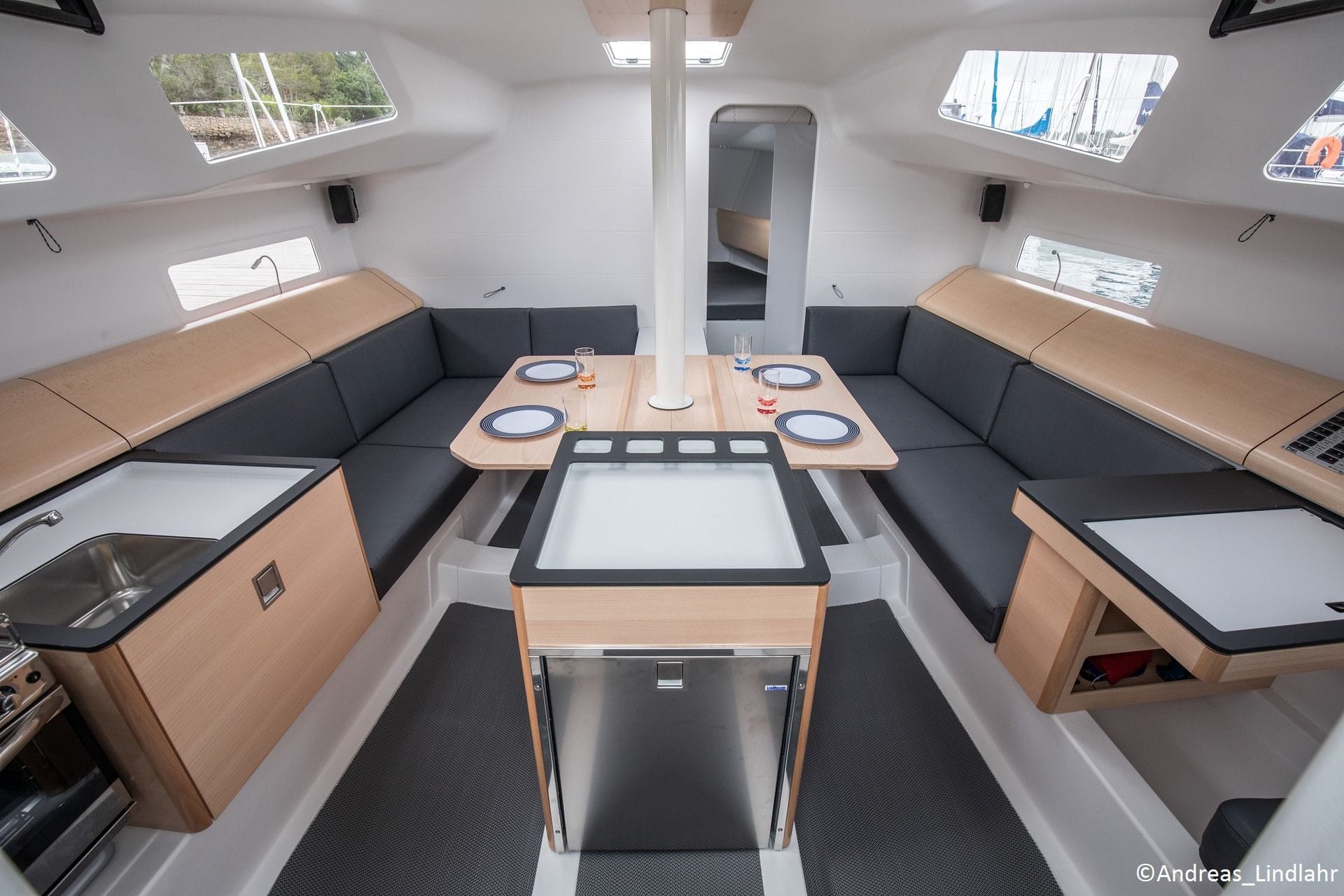 Interior and exterior comfort that you can only find in much bigger yachts.
Interiors: 3 cabins, WC with shower, hot water, full kitchen, fridge, storage, excellent ventilation
Deck: Large and unobstructed cockpit, cockpit shower, low diving platform
Sailing fast does not have to be uncomfortable!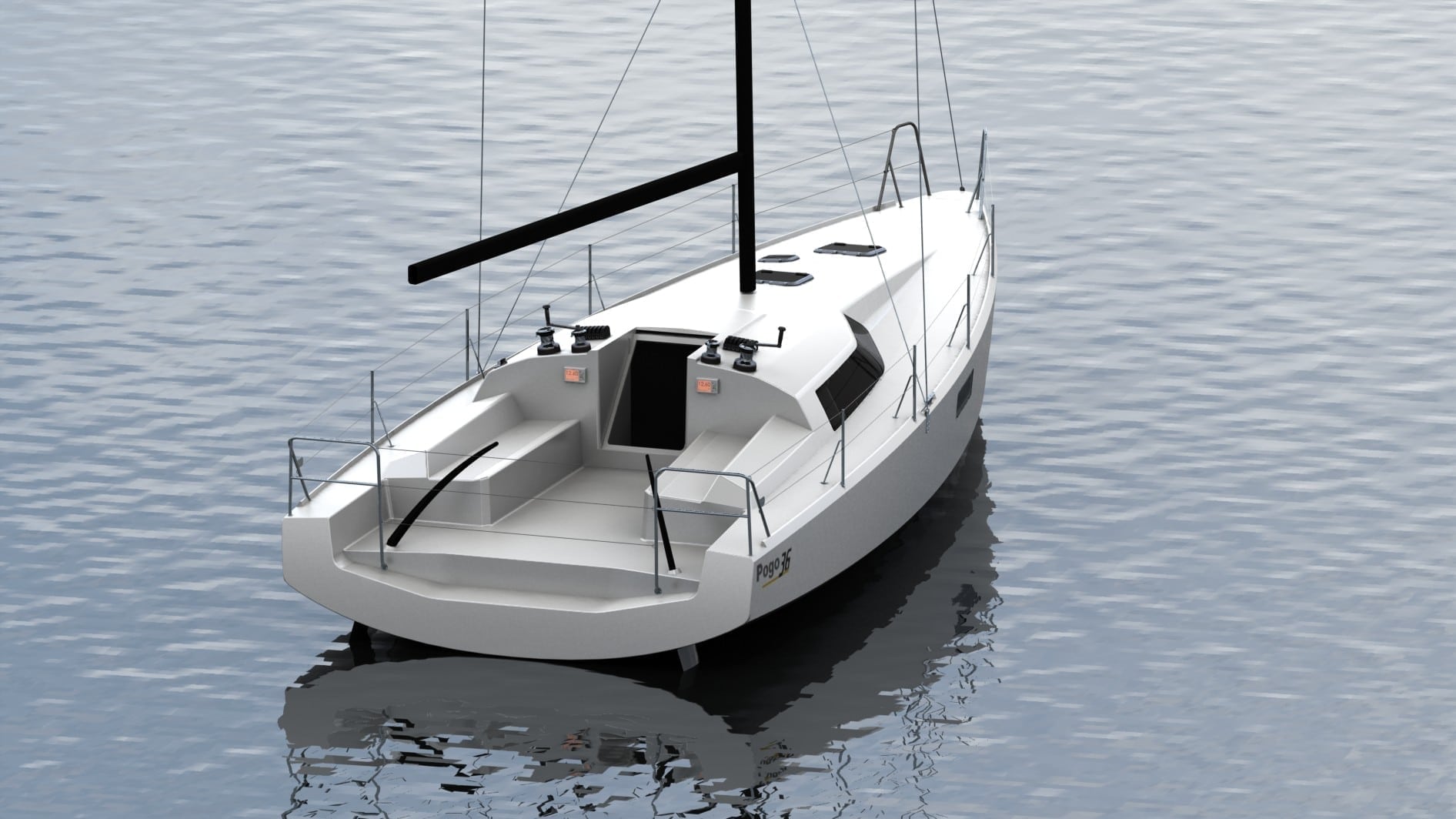 Absolute safety. Sail relaxed, feel and be safe at all times, no compromise on that! Safety comes from 5 basic characteristics: Robust structure, Stability, Unsinkability, Offshore design, Speed potential
Robust structure:
Hull reinforced both longitudinally and transversally
All bulkheads are structurally integrated
Extra reinforcement on highly stressed areas of hull and deck (winches, rudder pits, engine etc.)
Keel pivots backwards to absorb a grounding shock
Structures naval yard construction quality
Stability:
Very low center of gravity – below the hull. 1.1 out of the 1.2tons of total keel weight,  located at the lowest part from -2m to -2.8m.
Keel/Displacement ratio is at 1.2/3.6=33.3% (most cruising yachts have <30% , most racer/cruisers are rarely above 35%)
Significant righting moment

Form stability (4.0m beam compared to ~3.0m in conventional boats of similar length)
2.8m deep keel
max righting moment of 3.3tm @ 50o or equivalently max righting arm of 0.88m (Most racer/cruisers are rarely above 0.8m…)
AVS (angle of vanishing stability) = 122o, with keel down
Even with the keel lifted, the Pogo36 could be classified as a Class B Design Category under ISO 12217 (minimum required AVS= 130o -0.005xDisplacement = 130o -0.005×3600 = 112o >95o)

Twin rudders inclined to leeward.

Always a rudder fully submerged for control.
Rudder stands ~vertical => no hydrodynamic lift => steering is always soft and responsive
When downwind both the rudders in the water => extra stability.
When upwind only one of the rudders remains submerged => reduced drag
Un-sinkability:
Buoyancy foam below front and aft cabins
Watertight aft and bow crash compartments
Offshore design:
All controls and manoeuvres are cockpit lead.
All winches are close to the cockpit's central axis. The crew does not have to lean towards the yacht's extremity for monoeuvring
No permanently fixed table that can seriously hurt the crew during rough seas
Banks protect from incoming waves
Open aft section for immediate drainage in case a wave breaks into the cockpit.
Watertight sliding door is not the classic detachable panel type, but always in place, and ready to be closed at any time
Life-raft is stored permanently within the cockpit for immediate access and safe deployment in case of emergency
Speed: Being fast is an element of safety per se:
reach shelter quickly
escape from a weather front
Pogo36
| | |
| --- | --- |
| Hull,  deck & rigging |   |
|  Length overall | 10.86m |
| Max beam | 4.0m |
| Draft | 2.8m/1.2m |
| Light displacement | 3.6t |
| Mast | Carbon |
| Boom | Aluminum |
| Bowsprit | Carbon, retractable |
| Steering system | Twin rudders, Tiller |
| Motor | Volvo Penta D1-20 HP |
| Propeller | 2-blade folding |
| Navigation Category  ISO 12217 | A – unsinkable |
| | |
| --- | --- |
| Sailplan: |   |
| Mainsail | Square top 45 m² |
| Genoa | 29 m² |
| Staysail on removable stay | 17 m² |
| Asymmetric spinnaker A2 | 120 m² |
| Asymmetric spinnaker A5 | 100 m² |
| Gennaker/Code 0 | 60 m² |
| | |
| --- | --- |
| Interiors / Amenities |   |
| double cabins | 3 |
| single beds | 2 |
| Kitchen |   |
| WC with shower | 1 |