Neo430. Full carbon all arounder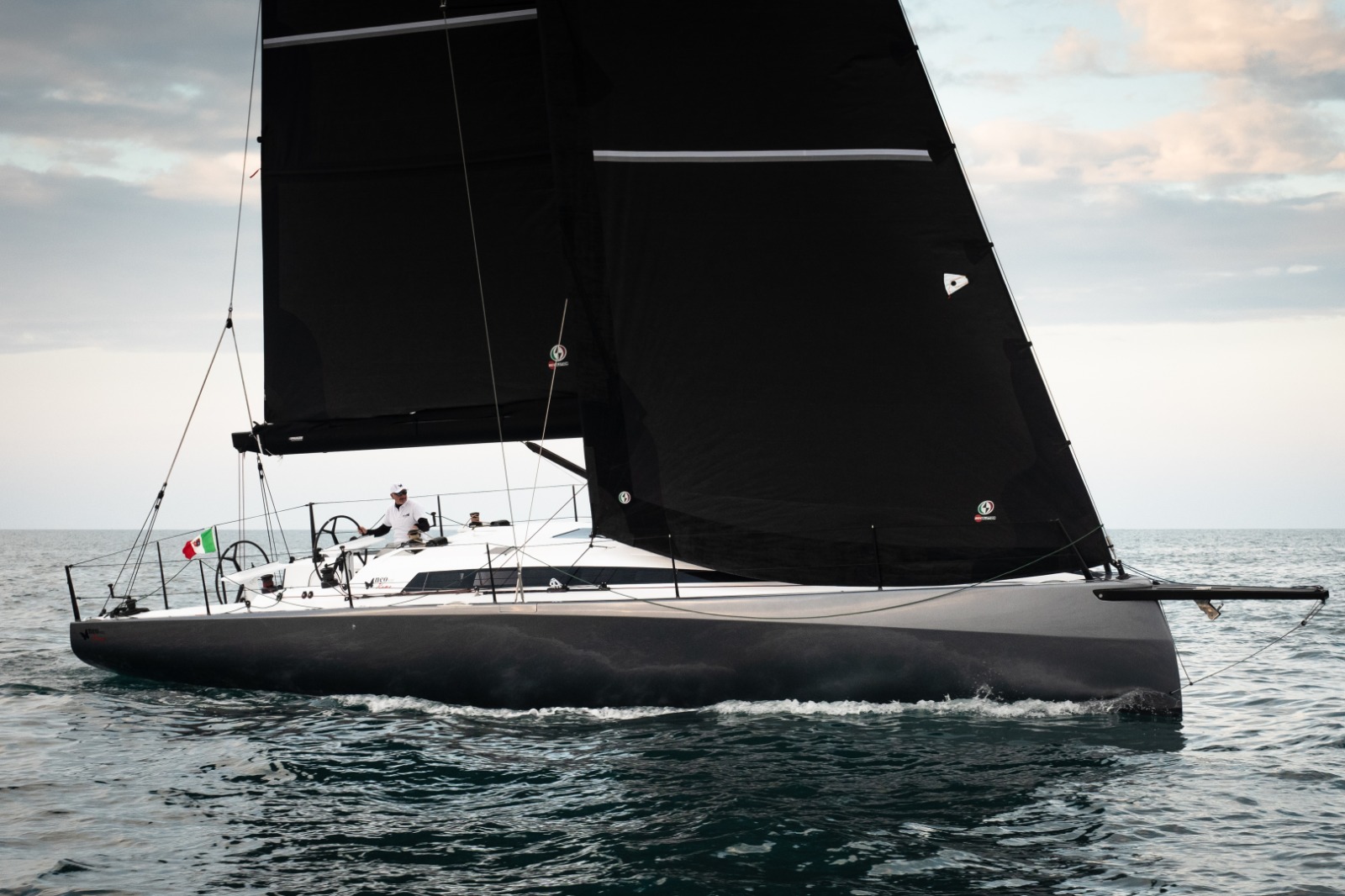 Neo430 is a no compromise sailboat: top performance on all angles and wind speeds, light, offshore strong, with top quality comfortable interiors.
Designed by Giovanni Ceccarelli and built by Neo Yachts in Italy without any compromise. Light and strong full carbon structure, all interior elements  made of carbon and of course structural, very powerful sailplan with super long bowsprit, 3m deep lead keel with bulb, double rudders…All that with a comfortable interior and exterior that offers great cruising while being ready for high end offshore racing.
No cutting corners, top quality and full carbon everywhere!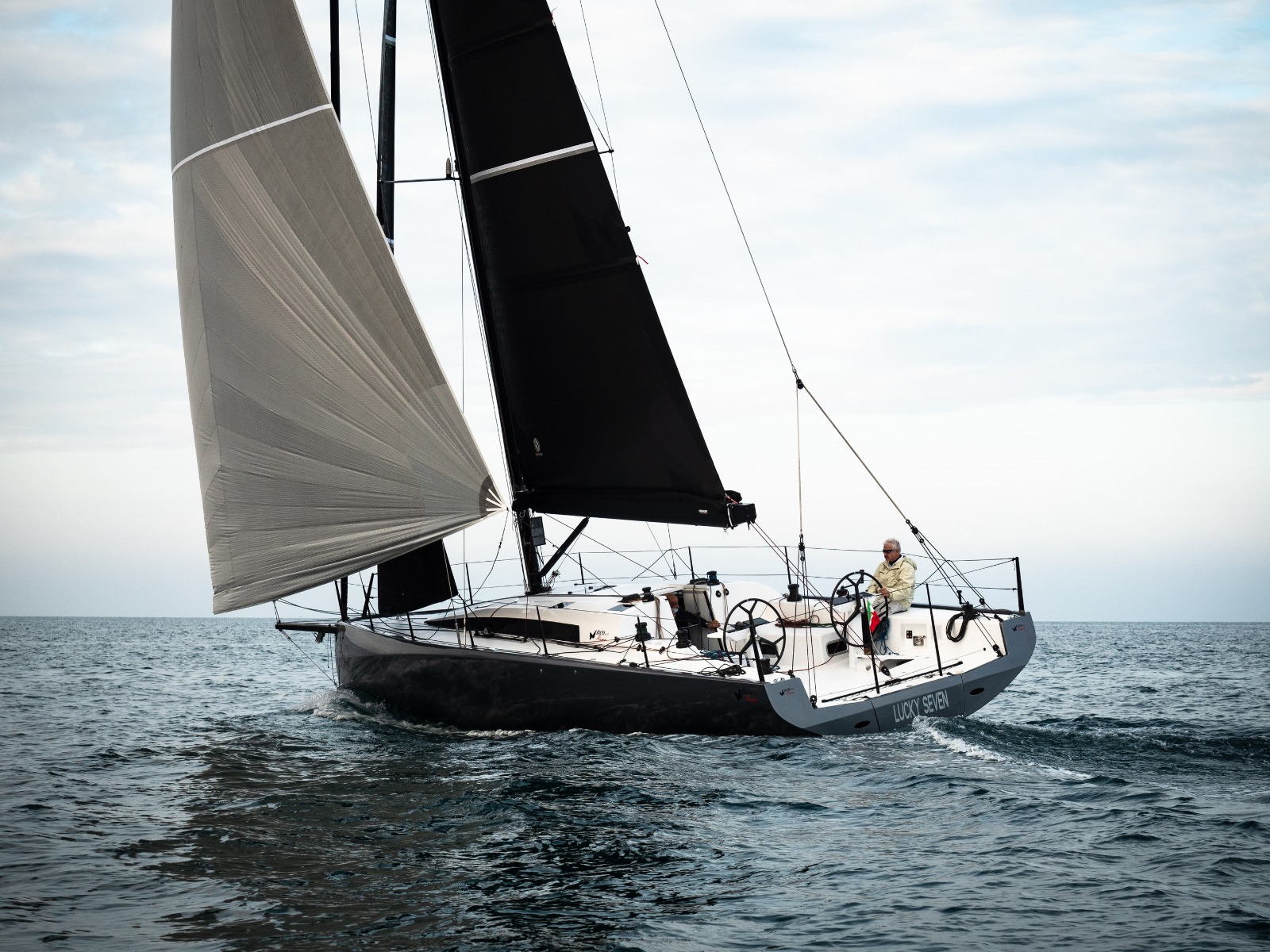 The brief was simple to define but actually difficult to implement: be fast on all angles, in both light and strong winds.
The result is impressive :  gliding faster than the wind for up to 7kts of TWS and when the wind picks up the boat can easily and safely do max speeds well over 20kts!
This is how it is possible:
Super powered:
Sail area /Displacement

2/3

 =  36.04 for upwind (D=5.7t, Upwind SA = 115m² )
Sail area /Displacement

2/3

 = 72.08 for downwind. (D=5.7t,  Downwind SA=230 m²)
Optimized hull & keel:
Flat hull shape optimized for planing both upwind and downwind
Minimized whetted surface for light wind and upwind performance
Voluminous front sections for more power
Pronounced rocker => minimal drag in light airs + bow up when sailing downwind in strong breeze
3m deep lead keel with bulb
Super long bow sprit:
Carries big reaching and downwind sails at a big distance from the bow
Allows efficient simultaneous use of a jib together with a Code0 or an asymmetric spi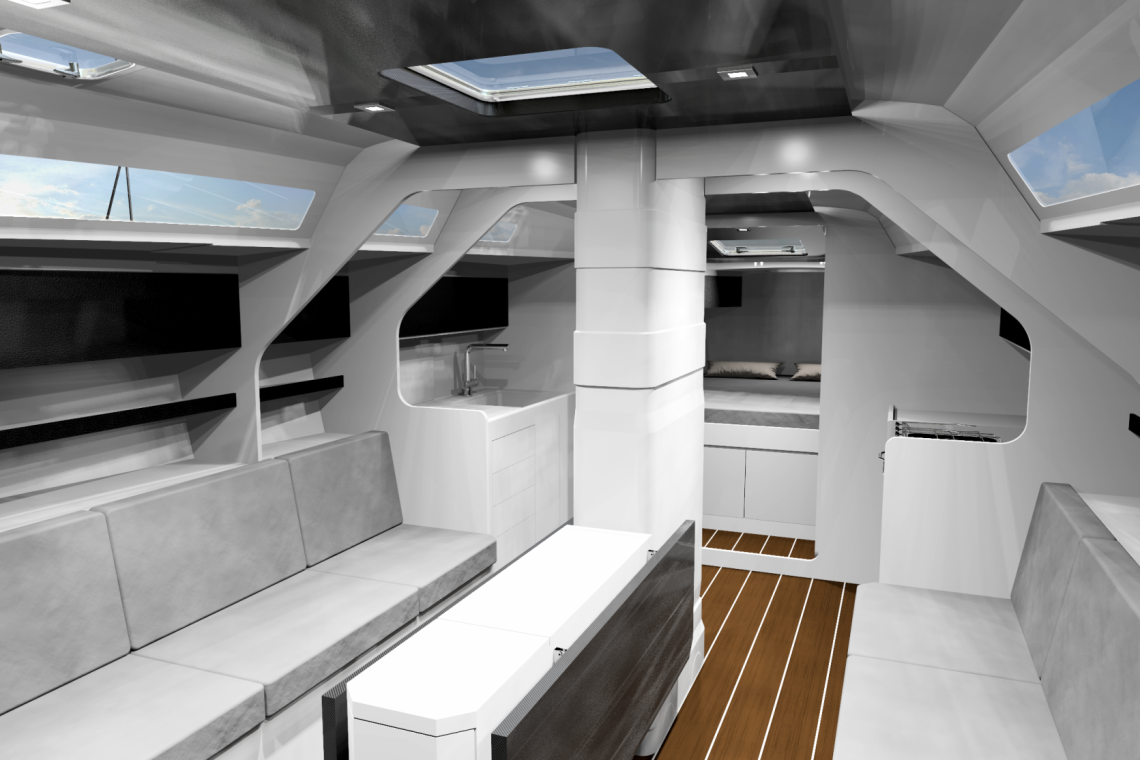 Interior and exterior that is focused on both performance and comfort:
The aft cabins each have a 3rd racing bunk and the double beds have independently inclining boards allowing 3 racing crew members to sleep on the windward side during long offshore races.  
Interior table can be mounted either inside or outside as cockpit table and can be stored away when racing
Double bathrooms with electric wc at the aft part of the boat, allowing access even during sailing
Big kitchen on both sides of the boat, allowing 2 persons to cook simultaneously
Excellent ventilation. Aft cabins have 3 hatches each
Total sleeping capacity: 10 persons
Clean and unobstructed cockpit
Comfortable cockpit bunks and large flat surfaces for sunbathing
Cockpit shower with hot water
Sailing fast does not have to be uncomfortable!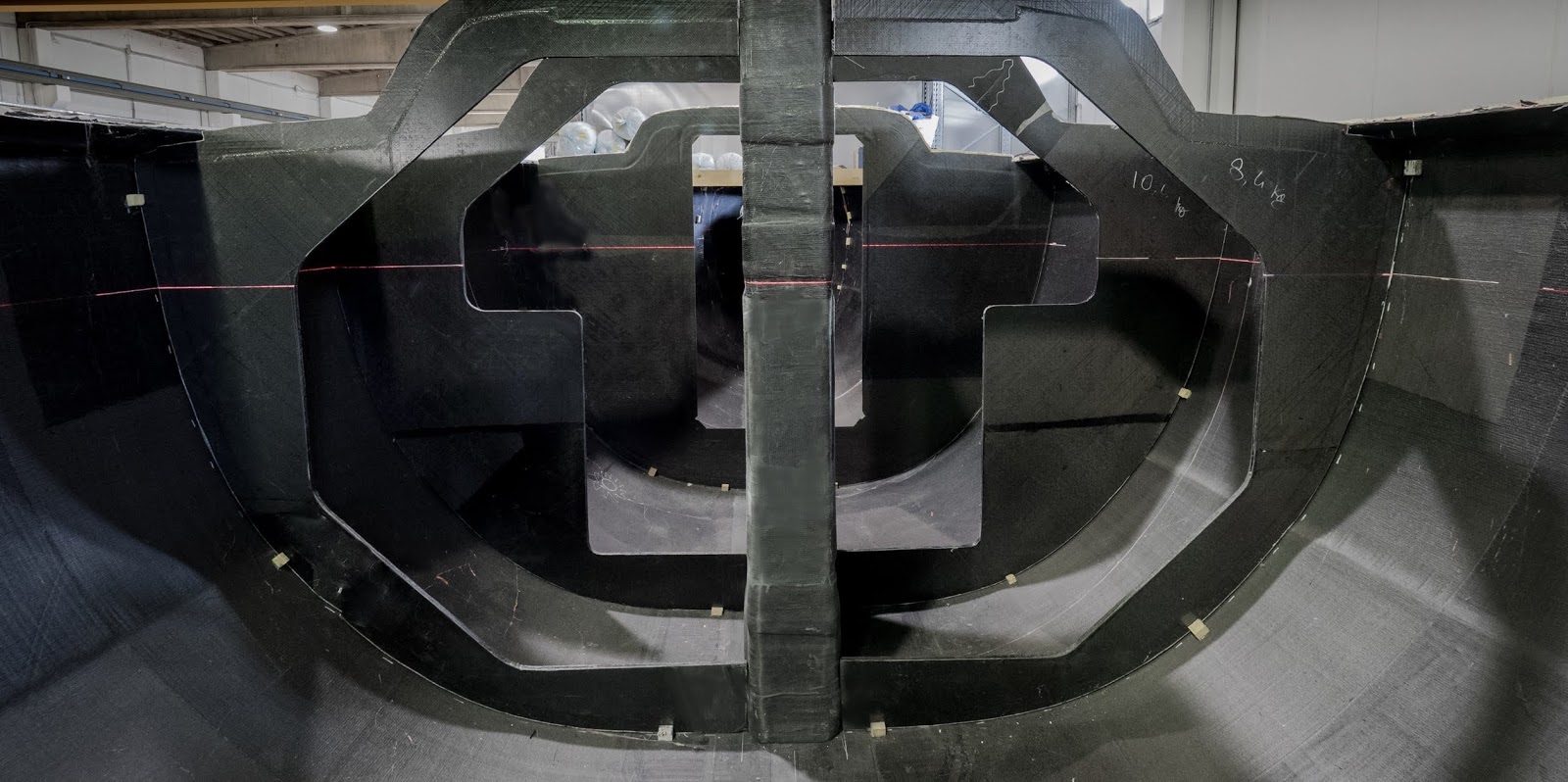 Absolute safety. Sail relaxed, feel and be safe at all times, no compromise on that! Safety comes from 5 basic characteristics: Robust structure, Stability, Offshore design, Speed potential
Robust structure:
Full carbon hull and deck reinforced both longitudinally and transversally
All bulkheads and furniture are structurally integrated
Extra reinforcement on highly stressed areas of hull and deck (winches, rudder pits, engine etc.)
Stability:
Very low center of gravity – below the hull. 2.5 out of the 2.85tons of total keel weight,  located at the lowest part from -2.4m to -3.0m.
Keel/Displacement ratio is at 2.85/5.7=50.0% (most cruising yachts have <30% , most racer/cruisers are rarely above 35%)
Significant righting moment

Form stability (4.1m beam with voluminous front sections)
3.0m deep keel
max righting moment of 6.5tm @ 45o or equivalently max righting arm of 1.09m (Most racer/cruisers are rarely above 0.8m…)
AVS (angle of vanishing stability) = 115o

Twin rudders inclined to leeward.

Always a rudder fully submerged for control.
Rudder stands ~vertical when sailing=> no hydrodynamic lift => steering is always soft and responsive
When downwind both the rudders in the water => extra stability.
When upwind only one of the rudders remains submerged => reduced drag
Un-sinkability:
Buoyancy foam below front and aft cabins
Watertight aft and bow crash compartments
Offshore design:
All controls and manoeuvres are cockpit lead.
All winches are close to the cockpit's central axis. The crew does not have to lean towards the yacht's extremity for monoeuvring
Cockpit table folds and becomes a long inox handle with rounded edges to protect the crew
Banks protect from incoming waves
Open aft section for immediate drainage in case a wave breaks into the cockpit.
Life-raft is stored permanently within the cockpit for immediate access and safe deployment in case of emergency
Speed: Being fast is an element of safety per se:
reach shelter quickly
escape from a weather front
Neo430
| | |
| --- | --- |
| Hull,  deck & rigging |   |
|  Length overall | 13.06m |
| Max beam | 4.06m |
| Draft | 3.0m |
| Light displacement | 5.7t |
| Mast | Carbon |
| Boom | Carbon |
| Bowsprit | Carbon, fixed |
| Steering system | Twin rudders, Twin Wheels |
| Motor | Yanmar 40HP |
| Propeller | 2-blade folding |
| Navigation Category  ISO 12217 | A |
| | |
| --- | --- |
| Sailplan: |   |
| Mainsail | Square top 62 m² |
| Genoa | 45 m² |
| Staysail on removable stay | 30m² |
| Asymmetric spinnaker A2 | 170 m² |
| Asymmetric spinnaker A5 | 120 m² |
| Gennaker/Code 0 | 90 m² |
| | |
| --- | --- |
| Interiors / Amenities |   |
| Total sleeping capacity: | 10 persons |
| Two double cabins with 3rd racing bunk aft |   |
| One double cabin at the bow |   |
| Two single beds in saloon |   |
| Kitchen |   |
| WC with shower | 2 |